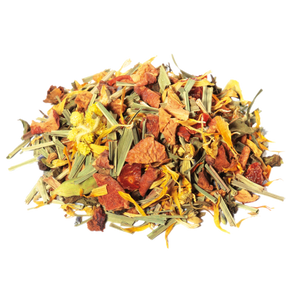 It's hard to say what is most fascinating about herbal teas: the diverse taste experience or the ancient healthy tradition? In monastic medicine, for the old shamans and in Chinese naturopathy, the benefits of herbal infusions on the mind and body are equally highly valued.
On the other hand, the traditional herbal infusion has long been part of the modern lifestyle as a wellness tea and Ayurveda tea. Herbal teas are even becoming more and more popular as varied thirst-quenchers.
The diversity of herbs is practically in the nite, and their benefits are timeless. This is why they also inspire us daily at Alvida® to always produce new and delicious herbal tea blends.
Ingredients: apple, rose hips, camomile, tulsi, marigold, black pepper, peppermint, lavender, cudweed, cardamon, valerian. No added flavouring.