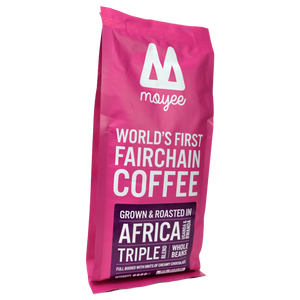 Full bodied 100% Arabica coffee with hints of creamy chocolate. When you want a full, dark, nicely balanced coffee, then Africa Triple Blend coffee is your guy!
A powerhouse full of chocolate tones and caramel flavours. Moyee roastery first collaboration with a partner roastery in Kenya, Moyee Africa Triple Blend is a medium roast crowd-pleaser in a cup with beans from Uganda & Rwanda.
Origin: Uganda & Rwanda
Intensity: 4/5
100% Speciality coffee
Ethiopia is the birthplace of Arabica coffee and so that's where Moyee started. This coffee is grown sustainably in the shade of wild native forests. Working closely with farmers gives possibility to use only the best quality coffee beans, witch are slow roasted by local roast masters to create excellent single origins and blends. Speciality coffee direct from the mountain top to your cup.  Radically good coffee with radical impact!