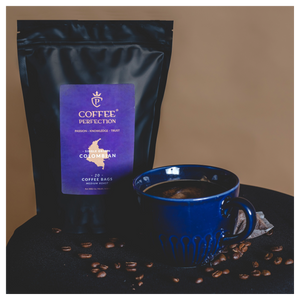 Coffee in a bag  its that simple!
Fresh roast and ground coffee in fully compostable bags. No mess, no fuss just great tasting coffee. No additional equipment is needed, so put the cafetiere and filter machine away. Just allow for a kettle and cup, easy!
This medium roast single origin from Colombia is rich and complex with notes of blackcurrant, citrus peel and dark chocolate.
◦ Tasting Notes -  Dark Chocolate, Blackcurrant, Citrus Peel
◦ Brewing and Storage Instructions - Add hot water, infuse for 3-4 minutes. Brew to taste. For fast tasting results keep the zip on your pouch closed. Store in a cool dry place our direct sunlight and use within 4 weeks of opening.
◦ Origin - Colombia
◦ Weight - 200g (20 bags)