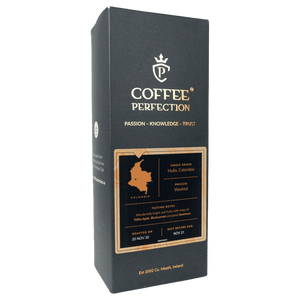 In 1963 Cadefhuila evolved as an initiative to market dry parchment coffee for the producers of Huila. The organisation of small producers formed into a cooperative entity that represented their interests. Since 1963 Cadefhuila have aim to transfer the highest possible price to the coffee growers and support training, funding and ongoing investment in the Huila coffee sector.
Huila's landscape is mountainous supporting a variation in climate along with a nitrogen rich soil, making it ideal for growing coffees.
The cooperative members coffee farms are located in the below municipals. Their lots are sold through the year to their local buying stations. Payment is based on local market rates and quality premiums.
Location: Huila District
Process: Fully Washed
Varietals: Mixed
Altitude: 1200-1600masl
Tasting Notes: Wonderfully bright and fruity with notes of Toffee Apple, Blackcurrant and great Sweetness
Roasted Co.Meath, Ireland
250gr