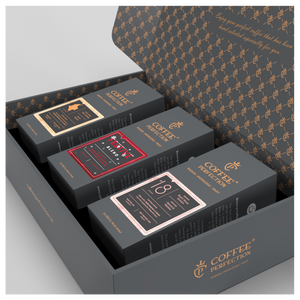 Carefully selected Coffee Pefection signature blends, single origins and festive seasonal coffee to give a real coffee experience!
250g Festive Seasonal Coffee. Tasting Notes- Full bodied/Candied  Orange/Spice/Cacao Nib. 
250g Signature Blend. Blend 18 Kenya, Sumatra & Brazil - Citrus/ Apricot/ Cocoa.
250g Single Origin from Huilla, Western Colombia. Tasting Notes - Dark Chocolate/ Toffee Apple/ Blackcurrant.
All of these coffees are available for Cafetiere/Filter/ Drip coffee makers.